Rinnai Hotflo 10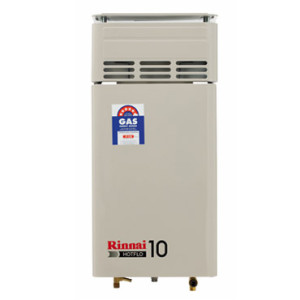 Instantaneous or continuous flow hot water heater with battery ignition.
Ideal for applications were no power is available or where there is a minimal requirement for hot water, the Rinnai Hotflo 10 is perfect. It is an instantaneous or continuous flow hot water heater.
Rinnai's innovation has inspired this product, which features their unique
Puretemp™ temperature stability technology – eliminating hot and cold temperature
fluctuations common in older generation hot water systems.
Class leading gas efficiency,comprehensive warranty and no need for a power point makes the Rinnai Hotflo 10 a great choice when you only need to supply 1-2 taps and and want to minimise purchase and installation costs. Great for granny flats.
Features
High efficiency with 5.6 stars
10 litres per minute of hot water @ 25°C rise
Battery ignition – no power required and ideal for remote locations
Sleek and modern design to suit contemporary homes
Class leading warranty of 3 years parts and labour and 10 years heat exchanger
Natural gas or LPG available
Water and gas connections placed for quick and easy changeover
Puretemp™ water delivery technology inbuilt to provide a perfectly
constant outlet water temperature
Minimum flow rate of 2.9 litres per minute
Or call Rupes Today & Starting Saving – 0414 555 674