Rinnai Controllers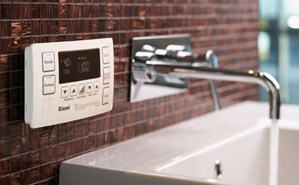 Rinnai Controllers enable you to simply set your desired temperature, turn on the hot tap and enjoy… no more juggling the hot and cold taps and of course this also saves water.
Temperature Fluctuations
Continuous Flow water heaters like all types of water heaters can experience temperature fluctuations when other taps are turned on. Water controllers avoid this by maintaining an exact temperature even when other taps are used or a toilet is flushed.
Safety
The installation of Water Controllers allow you to select the exact temperature you need, reducing the chance of scalds. Deluxe Controllers have the added feature of an automatic bath fill which stops the water flow at your desired level. This also means that young children can no longer play with the hot tap because no water will come from it!
Ease of Use
Simply select the temperature you want and turn on the hot tap. Not only can you experience total control in the bathroom, but unlike other Continuous Flow hot water systems, you can have up to four controllers… a controller for the Bathroom, Kitchen, En-suite and even the Laundry.
Extended Warranty
Rinnai INFINITY installations with 2 or more Water Controllers receive an extended parts & labour warranty, from 3 to 5 years.
Types of Rinnai Water Controllers
From a functionality point of view Rinnai have 2 types of Controllers
Universal Controllers (Both Wireless & Hard wired versions) with the following functions:
Precise temperature control

Room priority transfer

Smartstart – preheat system functions

Child Lock (Wireless only).
Deluxe Controllers (Hard wired only) with all of the functions of the Universal model with addition of:
Master Controller usually installed in the Kitchen

Separate Bathroom Controllers

Automatic Bath fill function

Shower saver feature – preset your desired litres

Digital Clock, Speaker & Volume Controls
Wireless vs Hardwired Controllers
Up to 4 Water Controllers can be installed throughout a home for all Rinnai INFINITY models in almost any combination of Wired, Wireless & Deluxe. It is not always possible to run wires in all installations so hence the wired and wireless options available for the Universal model catering for different situations.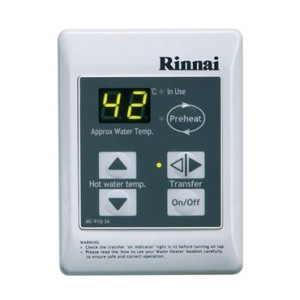 Standard Universal Controller.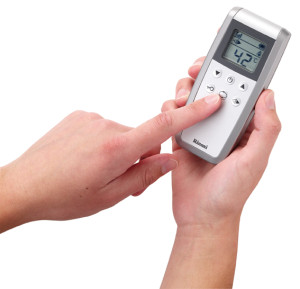 Wireless Universal Controller
As supplied with the Rinnai Infinity Touch 26, these are also available for practically any Rinnai continuous flow hot water heater.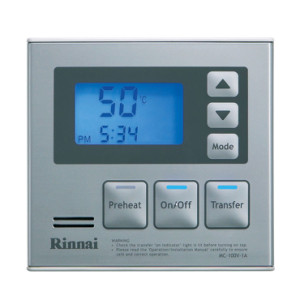 Deluxe Kitchen Controller.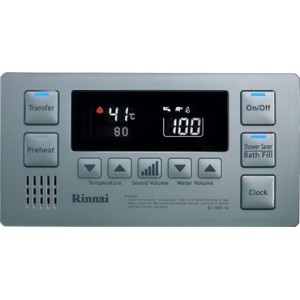 Deluxe Bathroom Controller. 
Call Rupes Today for free advise on your hot water needs – 0414 555 674